Born in New York City, Diahann, at 10 years old, won a Metropolitan Opera scholarship and was subsequently accepted at the High School of Music & Art where she continued developing her voice. In 1953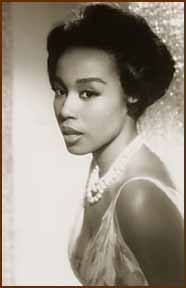 she was a freshman sociology student at New York University preparing for Carrolla teaching career when she met with Latin Quarter owner Lou Walters who arranged for her to appear on the TV showcase "Chance of a Lifetime."
In 1954 Diahann appeared as Pearl Bailey's high-living partener in sin, in the movie, "Carmen Jones," produced bt Otto Preminger and later appeared on Broadway in "House of Flowers" (again with Pearl Bailey).
Through the 50's and 60's, she continued as a popular supper club performer, headlining at such venues as Ciro's in Hollywood, Miami's Eden Roc and Fountainebleau, New York's Apollo Theatre, Latin Quarter and the Plaza among others. Ms.Carroll later starred in the 60's television show "Julia" and years later landed a role on the established hit show "Dynasty."
TIPS ON TABLES - Robert W. Dana - November 8, 1961
Diahann Carroll, whose piquant personality and charming way with a song have won her a top place in the entertainment world, has been signed by Neal Lang, vice-president and general manager of the Plaza, for an engagement in the Persian Room, beginning Wednesday, November 15. This will be the third time the irresistible Diahann has appeared in the Persian Room and, as before, there is little doubt about the excitement her return will generate.
Diahann more than most stars, can interpret a wistful, sensuous or saucy song with equal magic. Her versatility has been sharpened, no doubt, by the training she has had in motion pictures, in television shows, in stage musicals and in making recordings of great impact. At the most present time her most recent film, "Paris Blues" in which she is featured with Paul Newman and Joanne Woodward, is being shown locally and throughout the nation. Earlier, she won accolades for her acting and singing in the filmed version of "Carmen Jones" and "Porgy and Bess."
Miss Carroll's remarkable talent has been revealed in the television programs of the Ed Sullivan,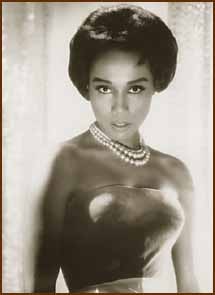 Gary Moore and Jack Paar, as carrollwell as in other leading shows. Her stage debut in the Harold Arlen musical "House of Flowers," revealed that she was an actress who could immediately provoke responsive warmth from theater audiences, her next stage appearance will be in the Richard Rodgers musical, "No Strings," in which she will portray a New York girl who becomes queen of the Parisian glamour models. She begins rehearsals for this promising extravaganza in January. Diahann is as dazzling in her recordings as she is the fields of visual entertainment.
One of Atlantic Record Company's most successful artists, her album, entitled "Fun Life," has teasing, taunting renditions of "I Don't Care," "there'll be Some Changes Made" and "The Boys Back in the Back Room," as well as a delectable melange of gay songs, torch songs, heart-touching songs, These and other songs will be included in her program for the Persian Room, where Warren Meyers will be her musical director.
Emil Coleman, virtuoso dance band leader, and his orchestra will accompany Miss Carroll at the Persian Room, as well as alternating for dancing sessions with Mark Monte and his Continentals.