Peter Lawford - the forgotten Rat Packer. An English fellow married to the Irish first family of America, the Kennedys. The last person to speak to Marilyn Monroe before her death and man who introduced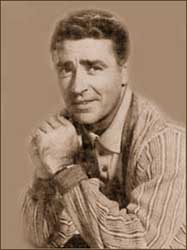 Marilyn Monroe at Kennedy's Democratic Convention when she sang "Happy Birthday Mister President."
Peter was born to Miss Lady Lawford and Sir Sydney Lawford (a decorated English general who assisted Mussolini in shaping his troops before WWII).
An arm injury at childhood, caused by trying to run through a glass door, thrashed all hopes of Peter's military career (much to his relief), and so he went into acting. An Englishman in Hollywood led to lots of acting roles where most eligible American actors were drafted and the English were considered quite heroic, standing alone against Hitler's assault.
Once Peter married Patricia Kennedy, Sinatra decided that his long-standing feud with Lawford (for once dating Ava Gardener) should end and so the Rat-Pack era began. With Lawford having JFK's ear, Sinatra began his Democratic campaign for Kennedy.
Most everyone knows of Sinatra's dissatisfaction with Lawford in the 60's because of his inability to sway the Kennedy administration to get the president to stay at his house (the "West Coast White House" as Frank called it) and only Sammy remained friends with him into the next decade.
Ostracized from Sinatra, Lawford never starred in another major motion picture again. He was slated to co-star in "Robin and the 7 Hoods" but the role was given to Bing Crosby instead. Peter spent the remainder of his career guest-starring on Password, Laugh-in and other game shows as a relic of a bygone era. In his last years, he would write letters to JFK as if he had an audience to heaven. He struggled with alcoholism and drug abuse all through his life. In the end, he spent much of his time in the Betty Ford clinic trying to recover, but this guilt-ridden fellow may never have wanted to recover. Maybe he saw more than anyone should ever see.
With over 50 movies to his credit, Peter Lawford remains an integral player in American Cinema. Three books about his life exist:: The Peter Lawford Story (by 3rd wife, Patricia Seton Lawford) "Bitch", a memoir of Lady Lawford's demise and "Peter Lawford: The Man Who Kept the Secrets".
"I don't know why Peter associates himself with that Rat Pack crowd. That dried up piece of spaghetti - Sinatra - but I do like his singing - he's the villain of the piece." - Lady Lawford