Singer Dick Haymes spent much of his career following in Frank Sinatra's footsteps. First with the Harry James Orchestra, then with Tommy Dorsey's outfit and finally as a solo singer. There were some who believed that Haymes was a better singer than Sinatra and in the 1940's, Mr. Dana was one of them, but this 1956 review describes the crooner needing to warmup a bit before catching up to his dazzling accompanists.
Tips on Tables - Robert W. Dana - December 20, 1956
By any standard in sickness and in health, Dick Haymes gives a solid performance at the Versailles.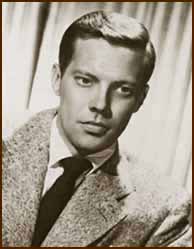 Afflicted with laryngitis the other night and otherwise challenged by the brilliance of the Cy Coleman trio, a showcase accompanying unit, he finished before a completely, admiring audience.
While Dick is in the warmup stage of his 40-minute performance, singing "I'll Take Romance" and "Life Is Just a Bowl of Cherries," it is extremely difficult to concentrate on him, because piano whiz Coleman and his boys outshine him with their stylish rhythmic effects.
Then he sings "Two Different Worlds," with Salvatore Gioe and his orchestra assuming the burden of accompaniment, and the difference is marked. It's quieter, fuller but never intruding. Call it a bridge for the listener finally catches up with Haymes, or Haymes with Coleman, and the rest of the performance is pure delight.
You can enjoy the long-perfected Haymes style in the same earful with Coleman musical delights as they collaborate effectively on "Love Walked In," "Love Is Here to Stay," "They Can't Take That Away From Me" and "Rain or Shine."
With the Haymes attraction, Nick and Arnold go into Christmas and the New Year well fortified. To back this up they have their excellent cuisine (and I suggest the veal cutlet Milanaise), with maitre de Robert at the velvet rope, assisted by Joe.
Music for dancing is played by Salvatore Gioe and his orchestra, alternating with Panchito and his band,who have been at the Versailles for years.