Poor old Johnnie Ray. I don't know of many performers who were so huge in their heyday and so forgotten today. America's first bisexual superstar, some consider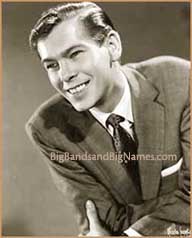 him jonny rayto be the missing link between Sinatra and Elvis. He even broke Martin and Lewis's attendance record at the Copacabana. A friend and proponent of, and early acknowledged influence on Elvis Presley, Johnnie is virtually ignored by the nostalgic radio staions of today.
Historians often refer to Buddy Holly and Elvis as being the guys who broke the colour barrier by sounding black but Johnnie Ray was the first prominent artist to enter the charts under that guise. His historic arrests for solicitation at a time when it made front page news make him arguably the most notorious of all R&B performers. He claimed that Frank Sinatra helped orchestrate his capture, in some of the instances of his arrests, because of his romantic affiliation with Sinatra nemesis Dorothy Kilgallen, a powerful New York columnist.
Johnnie died quietly and with no fanfare, in a hospital room in 1990 of complications of liver disease. Tips on Tables - Robert W. Dana - February 23, 1953
It may be difficult to imagine a revival meeting taking place at Jules Podell's Copacabana, but, that's exactly what's going on there, these nights with Johnnie (Mr. Weeper) Ray as star of the show. While cry boy delivers his lachrymose songs, the on-lookers stamp and clap, weep and groan,, and by the time Mr. Ray completes his whining, stammering performance and indescribable hypnotic spell seems to have been cast over the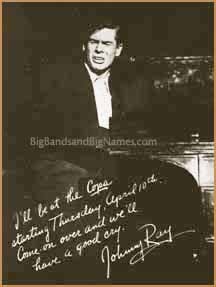 entire audience. Mr. Ray's opening number a peppy tune called "You Go Your Way, I Gotta Go Mine" offered little, Indication of what was to come. Gradually he became sadder and sadder with renditions of "The Touch of God's Hand" and "The Little White Cloud."
Wasted Handkerchief No sooner did he sing the opening notes of "Cry" than a girl sitting at the ringside burst. into tears. The gallant Mr. Ray handed her his handkerchief, but that only made the girl weep harder out of sheer joy, no doubt. His interpretation of "Walk and Talk With The Lord" was accompanied by vigorous clapping from the audience , and then, Mr. Ray, his face wet with perspiration, panting from exhaustion, walked off amid a thunderous ovation. A nice. contrast, to Mr. Ray's frenetic shenanigans Is the likable, vivacious comedy team of Betty and Jane Kean.
The sisters have been held over from the last show and they have retained jonnie raysome of the material from their previous engagement. But that should deter no one from seeing them again. For the Keans offer a delightful, boisterous act that includes dancing, singing, and hilarious caricatures of Marilyn Monroe, Frankie Laine, Bette, Davis, Christine Jorgensen and among other, The Gabor Sisters.Others on Bill
Rounding out the bill are The Nicholas Brothers, who give forth with some breathtaking dance steps; Helene Dimone, a singer who bears remarkable resemblance to Margaret Phelan: Romona Lang and Jack Purcell, who contributed to the dancing portion of the how, and Ted Martin, curly haired singer with a pleasant song delivery. Michael Durso's Orchestra provided music, good musical accompaniment for the show.