Rosemary Clooney got all the accolades, but she had a little sister who tried to follow in her footsteps as a solo singer after they had both toured with the Tony Pastor Orchestra. Betty Clooney launched her own career in the early fifties with performances like this at the Waldorf Astoria in NYC.
Tips on Tables - By Robert W. Dana - August 25, 1954
A day will come when Betty Clooney will remember last night, Aug. 24, when she was the focal point of interest in a new program of entertainment at the Starlight Roof of the Waldorf Astoria. She will remember it,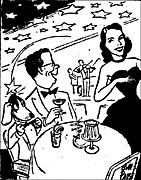 I think, as a night when she was graciously received on a bill that includes such pros as Henry King and his orchestra and the exquisite adagio dancers, The Adreas.
Miss Clooney is a young performer of much promise, who happens to have a sister named Rosemary, whose promise already has been fulfilled. Betty is coming along In fine style ,has many admirers as a result of her work on the Jack Paar TV show, has made records and many friends.
Singer Lacks Polish.
At the Waldorf last night she tried her wings In a top local cafe showcase, again with many admirers to wish her well. Her performance was well varied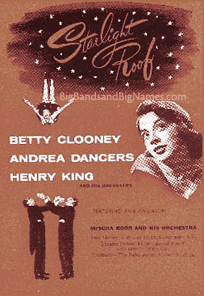 and sprightly, yet lacking the professional polish she probably will have after a few outings.
Call it immaturity. I found her fresh and of the ingenue type, one whose forte is hep, lowdown numbers like "A Good Man" and "My Man." She has a way with a lyric that can curl your emotions, and I suspect she'll be turning certain ballads into Clooney (Betty, that is) standards.
Betty's mother taught her to smile and shake hands. She does in a pleasing first meeting with her audience, "April In Paris" and "Jealous" are following numbers. that help everyone relax with her. And then she has a number called "Teddy Bear."
This "Teddy Bear" is the crux of her performance. A sweet little girl at ringside admired the stuffed animal she used as a prop. The audience Letterwas listening for a social song. Parts of it had a neat theme, but interpolations of other songs destroyed what might have been a real triumph.
I, for one, wish she had sung a complete song about this little fellow. At any rate, it was a nice performance. Miss Adrea, the beauteous female of the adagio dance act, keeps perfect form and poise as her partners, one with gray hair, the other a much younger chap, throw her around in debonair fashion. They make everything look so easy, just like the Hermanos Williams Trio, seen in this room.
Nice to have Henry King and his boys back. They play all kinds of music the way you like it, with Mischia Borr and his orchestra dividing the dancing chores.