Tips on Tables - Robert W. Dana - May 22, 1958
Jack Silverman's Old Romanian last night recognized La Rosa Portraitthe prom season by presenting Julius La Rosa, the smiling singer of note, as the star of its rousing,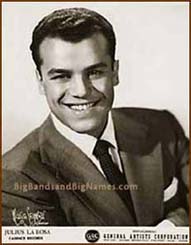 excitingly choreographical Boots McKenna revue, "Up and Atom." The somewhat dignified, always likable and always impressive Mr. La Rosa lent balance to a production that steps high, wide and handsome.
Eight fetching slick dancing girls and three handsome, agile male dancers form the nucleus of the revue in three production numbers. I believe the word production doesn't do them justice, for what they do falls into a class by itself, particularly the middle number, acting out a newspaper headline about the "St. Louis woman who shoots her man."
Talent Recognized.
Mr. McKenna, long a successful cafe producer in this city, is long overdue for the attention he deserves. Jack Silverman has recognized his talent and used it with gratifying results for some years. He has that rare ability of merging the devil-may-care, hardhoofing spirit of another era with topical nuances of the present.
Before Mr. La Rosa's arrival on stage, one is treated to the taps and cha cha, mambo dancing of a pair of boys from South America and the glib comedy of Gary Morton, who asks for special applause so that he might bask well in the La Rosa show. He earns it well.
I call Mr. La Rosa dignified and he is. In fact, he doesn't speak to the audience until his first break, after five numbers. Then he sings six more and is through. No wild cry for encores, but a solid, appreciative applause for a job well done.
Julius makes a mild attempt to lose his dignity in the second half of his program, using using the hand mike to sing "There'll Never Be Another You," bringing pangs of nostalgia to oldsters with his singing of "My Romance," adding a Yiddish tag to "Eh Cumpari" and winding up memorably with "I Remember You" and "The Begat" from "Finian's Rainbow."