The Andrews Sisters began their career by emulating the vocal stylings of the Boswell Sisters. During WWII. the Andrews reached their zenith in popularity with hits like their call-to-arms anthem "Boogie Woogie Bugle Boy". They also enjoyed succesful collaborations with Bing Crosby in film and song. There were reports that the sisters' off-stage bickering was as explosive as their recording career but the smooth blend of their voices has left us a memory of perfect harmony.
Tips on Tables - Robert W. Dana - February 26, 1959
Everybody seemed to be a member of the Andrews Sisters' rooting session as Patty, Maxene and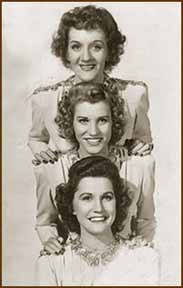 Laverne opened a starring engagement last night at the Latin Quarter after more than a decade away from the Great White Way. Seemingly effortless in the execution of their harmonies, they spun out about 20 of their famous numbers with showmanship so perfected that it seemed nonchalant.
These are different times we live in, and the pendulum of show business has swung away from the kind of entertainment the Andrews Sisters offer, but when you figure they recorded 700 songs in their time, achieving the peak of 17 gold records, it isn't surprising that this kind of magic is by no means ended. Gowned in white, red and black respectively by Edith Head, the sisters went through their repertoire with few interruptions, moving quickly from number to number.
Revive Hits of 20s.
Among the first group they sang were "Don't Fence Me In," "Bei Mir Bist du Schoen" and "Beer Barrel Polka." Then,! shedding part of their costumes to reveal shimmering sheath gowns, they provided an exciting segment of the dancing twenties with such songs as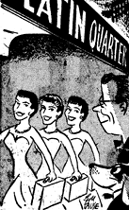 "Collegiate," "Last Night on the Back Porch" and "Show Me the Way to Go Home.
Jack Durant, a Latin Quarter perennial, brings his exhaustive, humor to the show. Always panting, as if he'd just finished the 100-yard dash, he literally pulls the customers out of any lethargic state they may have been in and compels them to laugh heartily at some very old lines.
The Latin Quarter almost always features an acrobatic act. Latona, Graham and Chadel, from Austria, fill this spot capably, offering novel cartoonstunts with humor throughout, It's a good act for all ages.
Pamela Work Scores.
I was pleased to notice the work of Pamela Work, a young lady recently of the club's chorus line, who has taken over the important lead spots vacated by Pony Sherrell. Her toughest assignment is as Sadie Thompson in the final production number. Aside from looking too innocent and young for the part, she does a pretty good job.
The rest of the Latin Quarter's big show is full of song, dance and color, making it one of the most rewarding exhibits in the big city. Music for the show and dancing is expertly handled by Jo Lombardi and his, orchestra, with interlude music by Buddy Harlowe.