Hours before hearing of Jane Wyatt's death at 96 on October 18th, I was listening to an internet broadcast of "Father knows Best" on AM 1710 ... I was going to seg between Jane Wyatt and the radio broadcast I heard .... but according to Wikipedia, which I just checked after I started writing this, the radio show began in 1949 and Jane Wyatt signed on for the TV version in 1954. Nevertheless, it was sort of mysterious ... AM 1710 has some great old time broadcasts, and they're constantly streaming. If you happen to be on Macintosh OSX, you can download an old time radio widget for your desktop that tunes directly into the station.
Remember Kitty Carlisle from "To Tell The Truth?" She appeared in "A Night at the Opera" in 1935 with the Marx Brothers. Now at 96, she'll be performing at Feinstein's at The Regency in New York from September 26th thru the 30th ... Here's a recent review of Jack Jones performing at The Algonquin in New York City ... Legendary composer Bernie Bierman celebrated his 98th birthday at The Metropolitan Room in NYC on August 26th with many friends and fans in attendance. Don Dellair writes all about the big event!
Here's some pics of "The Generations" big band performing in Delaware, I just happened to be there ... Also, some pics from The Mercer County Italian American Festival ... Shout! The Mod Musical, is a tribute to the swingin' British birds from the 60s and features their hit records as the soundtrack. This was a hit in London five years ago and has been recreated with an American cast for an Off-Broadway production (in New York) ... If you're in a 60's mood, this website about Carlo Little, "Confessions of a Sixties Drummer" makes for some interesting reading ... CarsHere's

one of the great remaining nostalgic kiddie parks in the USA, Carousel Village at Indian Walk, Bucks County Pennsylvania ... Just in case you've ever wondered what Muhammad Ali and Frank Sinatra would sound like talking about tooth decay.
Well, there's no mistaking this face! Even at seven years old, Little Sammy Davis Jr. looks pretty

much exactly the way he looked as an adult. You can catch a wisp of Sammy's phenom-like starpower on the PBS broadcast of "Sammy Davis Jr.: Singing Best." ... Here's a biography about "The Great One," Jackie Gleason's musical side ... There's a new energetic jazz CD available from Gordon Goodwin's Big Phat Band out of California called "The Phat Pack."

This is a powerful wall-of-jazz that doesn't resemble many of the performers on this site, but the skill level is undeniable. There's a great "Al Jaffee-like" caricature of all 18 members of this large band on the accompanying interactive DVD, which in itself, is an accomplishment ... You can view Dean Martin's last (and

only) music dinovideo "Since I Met You Baby." Dean's decked out in his trademark tux and the shoot comes complete with Robert Palmer-esk 80's fembots dressed in black with wrap-around shades and Casio arrangement. Just click on "D" for Dean.
Paul McCartney is 64! Here's two interviews worth reading... "Paul was one of the most innovative bass players ever. And half the stuff that is going on now is directly ripped off from his Beatles period..."
–John Lennon-1980
I know that Paul was desperate to write with John again. And I know John was desperate to write. Desperate. People thought, Well, he's taking care of Sean, he's a househusband and all that, but he wasn't happy. He couldn't write and it drove him crazy. And Paul could have helped him... easily..."
– Linda McCartney-1984
Need transportation for your band? How about the Grey Goose, the 1968 tour bus for Spanky & Our Gang ... The famed New York restaurant, Luchow's, burned down

many years ago but now you can purchase sections of the historic interior and have yourself one heck of a finished basement ... While you're at it, get yourself the same wall sculpture that hangs in Tony Soprano's house ... Remember Johnny Crawford... the kid from The Rifleman? He's a big band leader now, and his band is a throwback to the orchestras of the 20's and early 30's ... He sounds a bit like Eddie Stone, Isham Jones' lead singer ... I don't know why

Clark Clark Gable's publicist would ever have let this Ed Grimley-like publicity shot go public, but you can find this, and many other Hollywood publicity photos available to download for free by the nice folks at DoctorMacro ... Here's photos of Abbott and Costello's kids, together at the Radio Hall of Fame Induction Ceremony ... And you thought that French legends Edith Piaf and Charles Aznavour could never get together for a duet? Not if this futuristic Euro space-pod video-thing on "Google Video" has anything to say about it ... The Beatles finally work out their differences on this Beatles Celebrity Deathmatch on YouTube.com
Passings:
Singer Georgia Gibbs, on December 9th ... Benny Goodman's singer Marth Tilton, 91, December 8th ... Legendary Jazz vocalist Anita O'day, 87, November 23rd ... Willie Pep, the greatest defensive fighter ever, 84, November 23rd from Alzheimer's ...Oscar winner Jack Palance, 87, on November 10th ... Pianist Leonid Hambro, 86, who performed with Victor Borge on October 23rd ... Actress Jane Wyatt from "Father Knows Best" on October 18th ... Pat Kennedy who married Peter Lawford in 1954 died from pneumonia on September 17th ...Mickey Hargitay, 80, who was married to Jayne Mansfield on September 15th ... Talk show host Mike Douglas, 81 ... "One For My Baby" Pianist Bill Miller, 91, who played with Frank Sinatra, Tommy Dorsey, Red Norvo and Benny Goodman, on July 11th ... Comedian Red Buttons, 87, on July 13th from vascular disease ... Film actress June Allyson, 88, on July 9th ... Veteran comedian Jan Murray, 89, on July 2nd ... Jazz photographer William Gottlieb, 89, from a stoke on April 23rd ...Chicago DJ Mike Rapchak on March 27th of heart failure ... Buck Owens, 76, who had the best hair in the business on March 25th. Prolific actor Darren McGavin, 83, on February 25th. Television icon Don Knotts, TV's Barney Fife, on February 24th. He was 81... Yet another of The Cowsills is gone ... Fayard Nicholas of the tapping, twirling, flying Nicholas Brothers died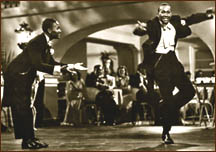 in Los Angeles at the age of 91 ... Acadamy Award winning actress Shelly Winters, 85, from heart failure. Drummer and big bandleader Tony Corbiscello, 53, performed with John Pizzarelli and played on Sinatra's last tour, on January 15th after a long battle with cancer.
The last of the under-200 lbs. heavyweight champs, Floyd Patterson, 71, died on May 11th. Patterson's

bobbing and weaving style, along with quick handspeed, brought him to the top of the division. He was later outmatched by bigger, stronger heavyweights like Liston and Ali who used their long left jabs to negate Patterson's crouching attack. Mohammad Ali once cited Patterson as the fastest heavyweight he ever faced ... Fifties boxing was often brought to you by Gillette ... "Look Sharp, Feel Sharp, Be Sharp."
There's some old-time entertainment going on in Tallahassee with Variety Show for America ... Here's groovy story about Dean Martin's Goldiggers ... A favorite site of mine is "Stories from Vegas" by Ed Walters, The Pit Boss. It's loads of fun to read, but the language is a bit "blue" ... and along those lines, some great on-the-road stories from the rock band band Simon Dupree including one about recently deceased Gene Pitney.
Jerry Lewis turned 80 on March 16th .... Here's a recent Eddie Fisher siting here and here! ... You can see what the hullabaloo was about back in the 30's and 40's by seeing these clips of Gene Krupa In Action. Gene held his sticks in the middle at times which gave him more bounce ... but less volume ... I guess? ... The original Poseidon Adventure Dolls (Stella Stevens!) ... Accordions have changed since I was a lad.Be sure to check out my Teenie Weenie book reviews! I keep 'em small so you can make a quick decision.
I was snooping around CDBaby.com... the home of today's standards singers ... and stumbled upon a CD called "I Get Around" that's out by a jazz singer named Sony Holland. It's her 3rd release, and I was told in an email by

Sony (I wrote her and asked for a copy), that this one was made "for the fans." That is to say ... there's no orchestra involved. Just a piano, bass and Sony's vocals. This isn't a bad thing ... the sparse orchestration makes you feel like you stumbled into a bar or cafe in this trio's hometown of San Francisco. Very intimate. There's a couple standards .... "Someone to Watch Over Me" and "My Heart Belongs to Daddy" but it's mostly original compositions by Sony's husband, songwriter, Jerry Holland. There's great emphasis on storytelling lyrics about spending time in cities like Hong Kong, San Francisco and New York City. The music is enjoyable and the lyrics are exceptionally well crafted but there's one song that stands out ... "This City is Mine" and it knocked me out! It sweeps... soars ... suspends and concludes in all the right places. The music and lyrics capture the thrill of a performer stepping from their cab ... looking up ... and seeing the sweeping skyscrapers of New York City... the exhilaration of having "arrived" in the Empire State. Sony's vocals are breathy and passionate and her delivery is fabulous. This song's a KILLER and deserves its place beside the great standards of the past.
Thanks to Andrea from Manheim, Germany for sending in an image of a Copa flyer featuring the German dance team, Harbers & Dale, to whom she was related!