Legendary stage performer and recording artist Robert Goulet. 73, who won recognition as Sir Lancelot

in the Lerner-Loew musical "Camelot" died on October 30th from pulminary fibrosis. Robert Dana wrote of Goulet's 1962 Plaza Hotel performance "Goulet is a handsome, assured fellow with a glib, altogether winning manner and a glorious voice to boot" .... THE LAST RAT PACKER, comedian Joey Bishop, 89, died on October 17th. His role during The Boys' shows was to preserve some veneer of structure while the others ad-libbed the evening away ... Famed Actress Deborah Kerr, 86, died on October 18th. Her films included "From Here to Eternity" and "The King and I."
Calling All Copa Girls! The "Copafest" which

occurred on Saturday, October 27th in NYC included former Copacabana alumni Julie Wilson (yes, that Julie Wilson), Jill Corey, Maxine Barrat, Terri Stevens, Evelyn Peterson, Virginia Klar, Phyllis Ford, Susan Marie Seton and "The Copacabana" author Kristin Baggelaar.
A large assortment of jazz and swing bands were on hand at the 18th annual Sun Valley Swing & Dixie Jazz Jamboree on October 17th -21st. Chicago's own Denny Farrell was the host for the event.
Legendary composer Bernie Bierman celebrated his 99th birthday on August 26th at the Metropolitan Room

in NYC. Bernie's songs have been recorded by Nat Cole, Harry James, Sarah Vaughan and Hildegarde among others. Some in attendance were Julie Wilson, Don Dellair and Celeste Holm (I snapped so many pictures of Celeste Holm during my slow nervous dodder to her and Bernie's table, that I actually felt guilty about it) ... but I only published one. Click to view photos and details of the big affair.
Scopitones is an fun website to spend a lot of time on. It's filled with tiny vintage music videos that were distributed on video jukeboxes in the 1960's. There's a somewhat racy (in a 60's sort of way) video by Dean Martin's old roomate Sonny King, a self-disparaging reflection by the milquetoast yet melodic finger-snappin' Legendaires on "Good For Nothing Bill" and my favorite, the "Bonanza-like production of "Five Card Stud" by the late great Merle Kilgore who used to carry the even later greater Hank Williams' guitar to gigs.
Atlantic City's century-old Steel Pier has one more year left before it's redeveloped or sold. Benny Goodman, Harry James, Frank Sinatra, Connie Haines and the diving horses all performed there during the great heyday of the big bands ... Spock did a lot of singing! Who knew? This website wants to get all his albums released onto an anthology CD ... "Return To Oz" was Disney's quirky sequel

to "The Wizard of Oz." It's a cult classic most adults and children would enjoy. It follows the original Oz books more closely and is has a bit of a following. Tik-Toc the mechanical man was my favorite
Forty years later, Tony Bennett reclaimed his song "For Once in My Life" (from Stevie Wonder) by giving the performance of a lifetime on the American Idol finale. I don't know how many 80-year-olds can go out and sing like they're 30, just one more time, but Tony did it. I don't know ... maybe he can go out and do it EVERY night, but It was amazing.
The 1964 World's fair was a wonderous event. Now archeologists and conservators are restoring the historic 9,000-square-foot Texaco floor that was featured at the New York State Pavilion ... While in Hoboken, NJ recently, the birthplace of Frank Sinatra, I thought I'd take the Sinatra walking tour but it was more daunting than I had time for. Hoboken is very much a city now (maybe it was then) and is no place for browsers like me... According to this site, Jackie Gleason's boyhood home of 328 Chauncey St. in Bushwick is currently for sale. Chauncey St. intersects with "Ralph" street.
Here's a funny snippet from a 1988 interview with George Harrison about meeting Elvis for the second time ... "I met him later at Madison Square Garden—it must have been in 1972, something like that. And at that time, I had my uniform; the worn-out denim jacket and jeans—looked like a rag-man— and I had a big beard and moustache, and long hair down to my waist. They took me back in the intermission to meet Elvis again and he was in the back of the dressing room—the big rooms with the showers for the footballers and stuff—and I was in the front part just talking to some of the guys. And I'm sitting there, thinking "Well, where's Elvis, then?" And finally he came out of the back and he was... immaculate. I felt like this real grubby little slug and he looked like Lord Siva or something. He seemed to be about eight feet tall and his hair was black and his tan was perfect and he had this big white suit, a gold belt about four feet wide and he was towering above me and I just put a hand out (cowers) and said "Hello, Elvis, how are you?"—just cowering like this little rag-man."
Talk show legend Merv Griffin, 82, who sang with Freddie Martin's big band in the 1940's died from prostate cancer on August 12th ... Hollywood character actor Charles Lane, 102, died on July 9th ... Charles Nelson Reilly, 76, who starred in "The Ghost and Mrs. Muir" died from complications of pneumonia on May 25th ... Kitty Carlisle, 96, whose career spanned Broadway, opera, television and film, including the Marx Brothers film "A Night at the Opera," died on April 18th. Most folks remember her as a panelist on the TV show "To Tell the Truth" ... Hawaiian crooning legend Don Ho, 76, died from

heart failure on April 14th. Remember "Tiny Bubbles,""Hawaiian Wedding Song" and his appearance on The Brady Bunch? ... I'm excited to include a very cool interview with Kristin Baggelaar who authored a book recently about "The Copacabana" so check that out for some exclusive info on that historic nightclub ... The current version of The Copacabana, a Latin and Hip-Hop venue in New York, is being forced to relocate because of eminant domain ... Peter Noone and Lulu showed up on American Idol's British Invasion Night. Noone looks great and Lulu is the only adult I've ever seen who looks better than she did in the sixties. She sort of oversang "To Sir With Love" but I guess she was trying to reach a new audience. In her career, LuLu's released more albums than you'd think
This site's been rebuilt! I had to do it since I had upgraded to Dreamweaver 8. The old templates from Dreamweaver 4 no longer worked. It took months (on and off) to do but hopefully, with the more streamlined coding and the use of CSS (blah. blah..blah) it makes the site load quicker and look jazzier.
Actress Janet Blair, 85, who sang with the Hal Kemp Orchestra died from pnuemonia on February 19th ... Ray Evans, 92, lyricist of "Silver Bells," "Que Sera, Sera," "Mona Lisa" and even the theme from "Bonanza" died on February 15th ... The Puerto Rican Bombshell, Diosa Costello, who's been living quietly in Las Vegas is back in the public eye. Diosa was teamed with another Latin legend, Desi Arnaz in this 1948 review ... Need a Hungarian Band?
Remember Mike Smith? You may not remember his name but you'd recognize his voice as the lead singer for The Dave Clark Five. Mike Smith was paralyzed a

couple years ago following a freak accident when his trousers got caught on the top of his own wrought iron gate, while trying to climb over. On a day in which he must have wished he'd had been anywhere else... he landed on his head ... More bad luck for The Dave Clark Five, hearthrob saxaphone player Denis Payton, 63, died of cancer on December 17th ... When performing, the band often dressed in white jackets and stood perfectly upright. Dave Clark flapped his arms in an unusual but distinctive drumming style. Check out YouTube's video of "Anyway You Want It" to see the boys at their very best. Incidently, The Dave Clark Five were denied induction into the Rock & Roll Hall of Fame for 2007, of which they were being considered ... Although the Four Seasons were succesfully inducted in 1990, bassist Joe Long, who joined the group in 1964. continues to be left out and some people are very angry about that
Alec Baldwin is HYSTERICAL impersonating Tony Bennett in this optimistic Saturday Night Live clip "I Love Things That Are Great!" Watch the REAL Tony Bennett crack-up while Baldwin stays in character. The cast must have been in awe that night because Paul McCartney, Steve Martin and Martin Short did a cameo on that very same show ... Celebrity Nooz is a fun site that tracks down celebrities from the 70's and 80's ... Here's some New York City restaurants from the 1900s ... Take a trip down memory lane and visit The Museum of Advertising Icons ... For a one of a kind gift, create a custom-made bobblehead of anyone you want.
"I Love Lucy" writer Bob Carroll Jr., 88, died on January 27th after a long illness.
There's a new six CD set from Request Records called Live Jazz from Club 15. These recordings are from the collection of KLUC's Mike request RecordsGold,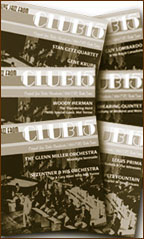 who broadcasted live from assorted Vegas venues in the 1950's and 1960's. The recordings were locked away until 2004 when Mike's grandchildren decided to check the quality of the old tapes. In a studio on the shores of Lake Minnetonka, Minnesota, they were played and digitally recorded at the same time because it wasn't known if they could survive more than one playing. Dramatically and fortunately ... they did. read more