Here's some photos from a visit to Carousel Village at Indian Walk in Bucks County, Pennsylvania. This tiny vintage amusement park closed in 2004 due to excessive insurance costs but in 2006, I stopped in to take some pictures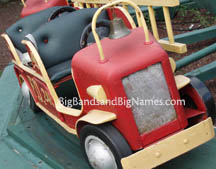 of what was left of the place. The park was empty and I was able to get these rainsoaked shots ... but when we inquired about the fate of these rides (at the antique shops nextdoor), they told us the park was only closed because of the rain. This landmark is open for business once again!
A featured attraction is the Herschell- Spillman Carousel which dates back to the 1880's. That means Civil War Veterans let their kids ride on it. But the star of the show is the miniature train that rides about a mile, stopping to see llamas, goats, an ostrich (you get to hold an ostrich egg) and other critters. You have to marvel at the length of track laid down for this tiny railroad. It reaches about a quarter mile behind the park and back again. My favorite was the gas-powered cars. They rev-up loudly when you hit the gas and you can actually steer them ... but not off the track (though it feels like you COULD steer them off the track). A nervous noisy thrill for driving Dads and kids in the backseat.
They don't make 'em like this anymore .. and "this" may not be around much longer. The operating costs are prohibitive (it costs $500 to repaint a carousel horse I'm told). Admission at Carousel Village is free. You pay only for the attractions the children ride. Then you can peruse the antique shops and nursery at your leisure. Have a fabulous brunch at the nearby historic Brick Hotel. George Washington probably did and so did we... and I'll stop back again on a sunnier day for some more pics.
Carousel Village at Indian Walk
Route 413, Wrightstown, PA 18940
215-598-7165
Some links:
Carousel Village
Brass Lantern (the antique shops)