Big Band News 2005
Comedian Louise Nye, 92, died from lung cancer on Sunday, October 9th. Nye co-starred in Steve Allen's 1950's TV show, was a regular on many game shows in the 60's and most recently, appeared several times on Larry David's "Curb Your Enthusiasm" series. Comedian Nipsy Russell, 80, died from cancer on October 2nd... 60's comedy icon Don Adams, 82, died from a lung infection on September 25th ... Not many "Little Rascals" left. Tommy Bond who played "Butch the bully" in the "Our Gang" serials of the 1930's died from complications of heart disease ... Film actress and singer Constance Moore died from heart failure in Los Angeles on Friday, September 16th. She was 84.Jerry Lewis was honored with the television academy's prestigious Governors Award for his decades of work on behalf of muscular dystrophy .... In Minnesota, somebody absconded with a pair of Judy Garland's ruby slippers from "The Wizard of Oz."
The Incomparable Hildegarde!, 99, died on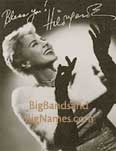 Friday, July 29 at 6:30 p.m. in the arms of longtime friend and manager, Don Dellair. There was a prayer service at the Frank E. Campbell Chapel in New York ... Of all the folders I've got on all the acts that Robert Dana reviewed in the Empire State, Hildegarde's folder is by far the thickest ... which is to say ... that Hildegarde was the performer that Robert Dana liked to review the most ... or at the very least, was assigned to review the most. Born three years after Bing Crosby, the Incomparable One was a huge star from the 40's to the 60's and even sang into the 1990's. In the 1950's, she authored a book about " Life Over 50." Hildegarde outlived most of her generation by a generation and she's especially revered among many of today's cabaret performers and enthusiasts. This quote from Robert Dana helped his readers understand Hildegarde's immense popularity as America's top dinner and supper club entertainer... "Hildegarde takes on any kind of musical number...with dazzling gowns, elbow-length gloves, coiffure with the fringes on top and a mischievous squint-eyed smile who sweeps majestically about her little arena like a musical compass." You can read more about Hildegarde here and here and there are lots of photos here
The accordianist's accordianist, Lawrence Welk's longtime accordianist, smiling Myron Floren, 85, died on July 23rd from colon cancer ... Last of the "sweet bands" bandleaders from way way back, Blue Barron, 91, who's theme song was "Sometimes I'm Happy," died in his sleep on July 16th. Russ Carlyle sang with the Barron Orchestra ... Big band singer and movie actress Frances Langford, 92, died Monday, July 11 from heart failure. Frances sang "I'm in the Mood for Love" in the 1935 film "Every Night at Eight." She also scored hits with "You Are My Lucky Star," and "Easy to Love." She toured with Bob Hope and Jerry Colonna entertaining the servicemen in WWII and co-starred in the popular radio show "The Bickersons" along with Don Ameche. You can hear a few of her songs here. In 1955, you could see Frances Langford appearing at the Cotillion Room at the Hotel Pierre in NYC along with four gentlemen singers called "The Fellas." The theatre dinner would have cost you $5 and just dancing after 9:15 would set you back $2 on weekdays and $2.50 on Saturdays... Chris Griffin, 89, a member of Benny Goodman's legendary trumpet section died from melanoma on June 18th. Griffin played with Goodman's orchestra from 1936 to 1939 and performed in the famous 1938 concert in Carnegie Hall... Maggie Banks, 80, died from complications due to colon cancer. She was one of the great choreographers having spent her youth as a featured dancer at American Ballet Theatre. Maggie and future husband Tommy Wonder met in the National Company of "Annie Get Your Gun" which starred Mary Martin. It ran in Chicago alone for over two years. Maggie went on to have the distinction of being the assistant choreographer to Jerome Robbins in the motion picture version of "West Side Story." That film won 11 Oscars, including Best Motion Picture. She was assistant choreographer on the long running television show The Andy Williams Show. Then, with the help of her two close friends, Ann-Margret and Juliet Prouse, she formed the Nevada Festival Ballet Company. It was the official state of Nevada ballet company. In poor health, Maggie recently retired as its chief artistic advisorOn August 17th, there will be a birthday celebration for actress Mae West in New York City. Although Mae died in 1980, Joe Franklin and others will be on hand to celebrate the event.Can anybody identify the players in this photo of Toots

Shor's baseball team? Some are easy but some are yet to be recognized. The annual Dean Martin Festival in Dino's hometown of Steubenville, Ohio is set for June 17th & 18th. New York's famed 98 year-old Plaza Hotel is having a six-week garage sale, liquidating much of its inventory.

Eddie Albert, 99, who began acting in the 1930's and starred in "Green Acres" has died from pnuemonia. Impressionist Frank Gorshin who starred as the Riddler in the 1960's Batman series and appeared in countless variety shows of that time died on May 17th. He was 72.

Comedienne Phyllis Diller, 87, is back in her California home recuperationg from neck surgery. She was injured when she fell out of bed.Al Jolson's former leading lady, Doris Eaton Travis, is making a comeback in New York at 101 years of age. If she can make it there, she can make it ...anywhere.I knew a guy who played in Artie Shaw's orchestra in the 90's. The band had centered an alluring clarinet in the middle of the room during a rehearsal, hoping the brilliant recluse would pick it up and blow a few famous notes ... he wouldn't ... but now one of Artie's own clarinets is up for sale.
Sophisticated singer/pianist Bobby Short, who was a fixture at the Carlyle Hotel in NYC for decades died on March 21. He was 80.
I attended a performance by a mustached Tom Jones at the Resorts in AC this weekend. He was dressed in an untucked satin blue shirt and what seemed like matching blue pants (pajamas?). Tom was in good voice and grinded a lot. Women about in their 30's, rushed the stage, squealed and threw underwear at him ... just like the old days. The seating was crowded and the tables were vertical to the stage and tiered, ten folks per table, five in a row so if you're the first person in each row, you're the luckiest, second get the next best shot at a view and so on ... you can finish the math. I was third. High points for me was an ethnic-sounding accordionish version of "What's New Pussycat" and Tom's impassioned vocals on "I'm Never Gonna Fall in Love Again." Extra kudos to the bass player who was a slappin' poppin' rhythmic wonder.

The Cal-Neva. once co-owned by Sinatra, has been sold to new investors so we'll wait and see what happens to Frank's historic cabins. Martin Scorsese's long- anticipated movie on Dean Martin is likely shelved for good but actor Denzel Washington is planning a movie about the life of Sammy Davis Jr.
Wisconsin's own Hildegarde turned 99 years old on February 1st! She will be receiving the "Golden Microphone Award" at her bedside for all her years with a top rated radio show on NBC ...Bob Hope, George Burns, Dinah Shore, Red Skelton, Arthur Godfrey, Kate Smith, Tommy Wonder (for his years on radio as Henry Aldridge) Arthur Tracey, Jack Benny, Eddie Cantor, Bing Crosby are all former recipients of this award.
Exotica bandleader Martin Denny, 93, died in Honolulu on March 2nd. Boxing legend Max Schmeling, 99, who fought Joe Louis in likely the most famous boxing matchup ever died on February 2nd.
Johnny Carson passed away on Sunday, January 23. He was 79. You can read some interesting transcripts from Larry King's show featuring Ed McMahon and Doc Severinson. Also on CNN, Charles Grodin, David Steinberg (remember The David Steinberg Show?) and Dick Cavett (check out what he says!) reminisce about Carson