Will Ferrell and John C. Reilly do a spoof on Bing and Bowie's famed duet ... An recent encouner with Phylllis Diller ... Paul McCartney played his first ever performance at the New York Apollo on December 13th. Tony Bennett was there! ... Frank Sinatra would have been 95 years old on December 12th ... And of course, enjoy this world-class Holiday performance from Dino and Bing
Happy Birthday to caberet legends Don Dellair and Julie Wilson on October 21st.
Eddie Fisher died from complications of hip surgery on September 22nd. At one time or another, Fisher was married to Debbie Reynolds, Elizabeth Taylor and Connie Stevens. He

was a hugely succeful singing idol in the 1950's, starring in his own television show and appearing in films. He had many hit singles icluding his signature song "Oh My Pa-Pa." Later enterprizes included tell-all books books like "Eddie: My Life, My Loves" and "Been There, Done That." For whatever reason, I think that tenors like Eddie Fisher, tend to be more overlooked as the years go by, as opposed to their crooning counterparts, who are still iadmired today. But for a while, Eddie Fisher was the biggest star on the planet. Here's a review of Eddie Fisher's 1959 performance at The Empire Room in New York City.
I was fortunate enough to get an invite to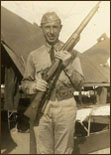 attend the 102nd birthday celebration of iconic composer, Bernie Berman, whose star-studded gathering was held at The Knickerbocker Bar & Grill in Greenwich Village, New York. Bernie performed his original compositions on piano with new lyrics he'd written just for the occassion Read more
George Clooney to play Sinatra? ... Check out this batch of previously unreleased Rat Pack photos from Life magazine ... Frank Sinatra's stone lodge near Palm Springs is up for sale. Too bad the photos look like they were taken by a kid's camera or cellphone.
Legendary "Stormy Weather" singer Lena Horne, 92, died on May 9th. In 1960, reviewer Robert Dana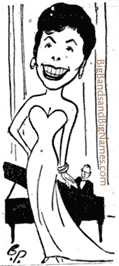 wrote "Even before she was allowed to kick off with "Continental Mind," the lithe Brooklyn beauty had to stand up to a double round off applause. Miss Horne paid off the debt with compound interest with her intense rendition of "Man I Love" and "Come Running," followed by a medley of Johnny Burke and Jimmy Van Heusen tunes." I was once told by an aquaintance of Robert Dana, that a Lena Horne performance was his all-time favorite concert.
Great to see Harry Connick, Jr. showing up on American Idol. I didn't think any of the kids handled the Sinatra songs too well, but I'd cast my vote for Crystal Bowersox. Remember in Season One when Tamyra Gray performed Cab Calloway's Minnie The Moocher and Kelly Clarkson sang Betty Hutton's "Stuff Like That"? Now that was a great representation of an era!
Say it ain't so! The Jackie Gleason Theater, a Miami Beach landmark where Gleason filmed his TV show in the 1960's, could soon be demolished ... The 35th annual Glenn Miller Festival in Clarinda, Iowa, will feature bands from around the world plus the grand opening of the Glenn Miller Birthplace Museum on June 10-13