Rowan & Martin's 1961 Latin Quarter performance has been added to the roster.
R.I.P. to the very last of the Big Band singers. She was the most prolific female vocalist of her era and my personal all-time favorite. Nobody could interpret a song like Doris Day. She was the best at what she did, and man, she did it all. Truly, the entire package.
The latest Avengers movie might be the biggest thing to happen to Harry James and the Big Bands since When Harry met Sally.
Melancholy view of the New York State Pavillion from the 1964-65 World's Fair.
Man, this website is old. It was originally built in 1998 (or 1997?) and updated in 2003. It's my ambition to rebuild it, but until I do, you can contact me at this corrected email.
One of the best singers in the industry, Vic Damone, passed away on February 11, 2018. He was 89.
Jazz singer Della Reese passed away on November 19th. She was 86.
The King is Dead: Kids loved Jerry Lewis but when those kids became adults, not always so much. Funny Bones and Arizona Dream were interestingly-quirky films and many were startled by his jarring performance in The King of Comedy. He hung onto pantomime long after some thought it interesting, but he was an innovative director, credited with pioneering video playback on his movie cameras and arranging sound stages so they stacked vertically so he could move up and down between floors while his other stages were being cleared and reset. Henry Ford would be proud.
Lewis was never funnier than when he was teamed with Dean Martin for their nightclub act but we have little evidence of just how funny they really were because these performances were never filmed. The closest we have is watching the Colgate Comedy Hour where they do some of the ad libbing they were so famous for.
Martin & Lewis were hugely successful, playing sold-out performances in tandem with jam-packed crowds waiting for them to open their hotel window and wave down toward their adoring public on the street. Only a handful of performers has ever received that kind of reaction (think Beatles, Elvis, Johnny Ray).
Lewis could be innocent or combative but he did it all... vaudeville, stage, radio, film, TV, director, screenwriter, author, dancer and singer ("Rock a Bye, Your Baby").
They don't make 'em like this anymore. He was the very last of his era.
And he can stop apologizing to Dean now.
Sleep warm, Pallie.
...............
Eight Ways to Celebrate Frank Sinatra's 100th Birthday!
Sadly, an encyclopedia of knowledge on old-time cabaret performers and nightclubs, Don Dellair, passed away on Monday, May 4th, 2015. He knew everybody, performed everywhere and managed the career of The Incomparable Hildegarde for many years. He was 86 (I believe). Don shared the same birthday as cabaret singing legend Julie Wilson, who passed on April 5th, 2015 at the age of 90.
2014:
"The Disappearance of Glenn Miller" is investigated on Tuesday, July 8th at 8 pm on PBS ... Frank Sinatra's (Sintra) first New Jersey driver's license sells for $15,757
This is amazing news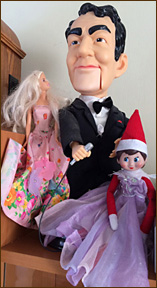 . Doris Day's first time out in public in two decades. She's likely the last of the big bands singers. She looked great.
2013:
That Dino ... he's still got it!!
Want to dine like Sinatra did? Here are a couple recipes from his favorite Hoboken restaurant ... And for $165, you can drink the same mix of Jack Daniel's that Sinatra enjoyed
Although not the original Trixie, Jane Kean played the part in 1966 on The Jackie Gleason Show." She passed away on November 26th at the age of 90 ... Eydie Gorme, who sang ""Blame It on the Bossa Nova" and "What Did I Have That I Don't Have?" died on August 10th at the age of 84. She, and her husband, Steve Lawrence, performed together for many years and frequently opened for Frank Sinatra on his later tours. Their duet version of "Where or When" with Sinatra was one of the very few times I thought one of those later Sintra duets outshined the original version.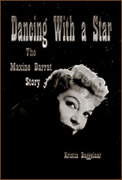 The story of one of the 20th century's most renowned and successful ballroom dancers, Maxine Barrat, has been, until now, a dormant archived treasure that offers an intimate account of the social, cultural, and personalhistory of the world-wide ballroom dance phenomenon. Check out author, Kristin Baggelaar's new book about dance legend, Maxine Barrat
Patty Andrews, the last of the singing Andrews Sisters, died of natural causes on January 30th. She was 94 ... Here's a neat little bio about songwriter, Jimmy Van Heusen ... Wow! Here's some very cool vintage photos from the Hollywood hot-spot, Ciro's ... That brought me to find a website about actor, Guy Madison published by his daughter, Bridget.
2012:
Sadly, legendary composer Bernie Bierman, 104, passed away in his NYC apartment on November 5, 2012. Bernie's songs were covered by Frank Sinatra, Nat Cole and Sarah Vaughn. More recently, his music was performed by singer, Michelle Pirret on her album, Somewhere in the World. Bernie was lyrically eloquent, teriffic on the piano, and threw the best parties in New York. He leaves behind a lot of friends and admirers.
Hey, this is Bing Crosby's first recording! It's not particularly good and he only comes in near the end of the song, but the narrarator is very informative.
Happy Birthday wishes to Don Dellair and Julie Wilson on October 21st!
One of the all-time great singers, Andy Williams, died on September 25th at the age of 84 from bladder cancer. He was famous for his recordings of "Moon River," "Born Free," "Days of Wine and Roses" and his TV series and Christmas Specials from the 60's and 70's. Here's a nice bio on his career.
Happy Birthday wishes for composer Bernie Bierman who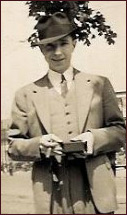 celebrated his 104th birthday on August 26th! Bernie was born in New York City in 1908
Phyllis Diller, 95, died on August 20th at her home in Brentwood, California ... Take an historic tour of Hawthorne, California with Beach Boy, David Marks part 1 and part 2 ... Here's a short bio on the career of Jerry Lewis ... Tony Martin, one of the last of the big-name singer-actors from the golden age of Hollywood musicals, died on July 27th. He was 98. His wife, dancer Cyd Charisse, died in 2008 ... Oscar-winning actress Celeste Holm died at her home in New York Sunday, July 15, at the age of 95. We met Ms. Holms at Bernie Bierman's birthday party in 2010 ... Hey, here's a site with some interesing stuff
Below is a great photo sent to me by Bill Bradley of School Of Music in St. Louis, Missouri, of The Paul Whiteman Orchestra in San Francisco, circa 1916. That's Bill's Grandfather, Frank Bradley on trumpet. The youngster with the violin is Whiteman, before his signature mustache.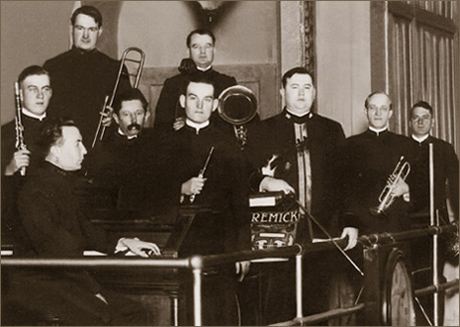 This Memorial Day Weeked, Rewound Radio will be broadcasting music of the 60's and 70's from the WABC archives. Those who remember the great New York DJs like Cousin Brucie, Harry Harrison and Dan Ingram, among others, should enjoy this yearly event. If yer hardcore, and live in the New York area, tune into 77 on your AM dial ... Too Cool! Dean Martin's 'batmobile' for sale ... Museum documents life of singer Peggy Lee ... Across the Golden Gate Bridge, they'lll be having the Seventh Annual DjangoFest on June 7th-10th
2011:
Denny Farrell, host of The Original Big Band Showcase, will be presenting a live broadcast from Chicago this New Year's Eve.
Like many, I found Dean Martin and Bing Crosby to be a pleasure to work with and I hope we get to do it again. Happy Holidays to All, from myself and Dino and Bing.
"Method to the Madness of Jerry Lewis" is a new film released on Encore network this December. It's getting mixed reviews, but I'm looking forward to seeing it.
Milly Ericson, 83, of Santa Monica, who sang with big band leaders Tommy Dorsey and Ray Anthony was killed on December 13, crossing the northbound lanes of the freeway in the Santa Clarita Valley.
Special Birthday Wishes go out to the "Walking Encyclopedia of Big Band and Cabaret Music" Don Dellair, who turns 82 on October 21st! Don was a singer/performer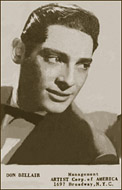 who appeared in many of the nightclubs listed on this website during their heyday. He also managed the career of The Incomparable Hildegarde for decades. He's a staple on the cabaret scene ... and is where I often go to verify information that I write about on this site. Also sharing that same birthday is singing legend Julie Wilson, who started out as a Copacabana dancer, and of course, has had a long and illustrious career as a singer.
Happy Birthday to legendary composer, Bernie Bierman, who turned 103 years old on August 26th!
Take the Frank Sinatra tour of Palm Springs and stay at his home, Twin Palms, for only $1,950 a night ... Tracey Davis, daughter of Sammy Davis, Jr., has signed an agreement to produce a feature film on the singer's life ... Mickey Rooney, 90, and Ernest Borgnine, 94, will be starring together in an upcoming movie about senior citizens ... More than 50 years after its initial airing on television, the estate of Nat King Cole plans to digitally release The Nat King Cole Show on iTunes ... Hugh Martin, best known for co-composing with Ralph Blane "Have Yourself a Merry Little Christmas," sung by Judy Garland died on March 10 in Encinitas, Calif. He was 96 ... Frank Buckles, the last known U.S. veteran of World War I died on Febraury 27 and was laid to rest at Arlington National Cemetary ...
News from 2009 ::: News from 2008
News from 2007 ::: News from 2006
News from 2005 ::: News from 2004
News from 2003 ::: News from 2002
© 2003 - Craig's Big Band, Nightclub and Restaurant Collection VAu605-593 - All Rights Reserved
site design by zavsays
1