Denny Farrell performed a live 1940's style big band remote broadcast from Sun Valley, Idaho in October of 2009, just the way they used to do it decades ago.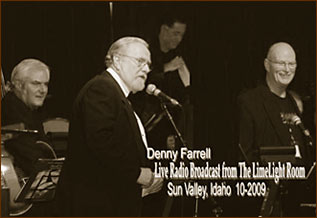 Richmond's own big band leader Bill Zickafoose, 87, died on November 24th. I had the pleasure of interviewing Bill back in 2003 where he spoke of his tenure with Django Reindhart and the military orchestra that replaced Glenn Miller's outfit after Miller's plane crash. Bill Zickafoose and his Continentals played the Richmond area for decades, and as recently as a couple months ago.
I've recently added a 1958 review of Celeste Holm's performance at the Plaza. ... Here's a great video about LA's recently destroyed Coconut Grove nightclub in the historic Ambassador Hotel ... And here's a collection of haunting images of the Ambassador before it was demolished ... November 18th is the 100th birthday of "Ac-Cent-Tchu-Ate the Positive," "Skylark," "Laura," "Blues in the Night" and "Moon River" composer, Johnny Mercer ... Watch comedian John Bayer do his impression of Martin and Lewis ... There are some who believe this may be the greatest chicken recipe ever!
McHale's Navy actor Carl Ballantine died on

November 3rd. He was 92. ... "Spanish Eyes" and "Speak Softly Love" singer Al Martino, 82, died on October 13th. Many of you know him as Johnny Fontaine.

Happy Birthday to cabaret legends Don Dellair, who will be 80, and Julie Wilson (who will be a bit more than that) on October 21st!
Well a little off the beaten path: On Saturday, September 26th, I'll be reuniting with my 1980's new wave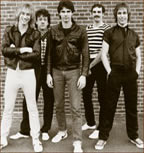 band The Exceptions for the first time in 28 years. The drummer is flying in from Germany, the singer from New Mexico, and it will all come together in Manville, New Jersey. We're looking forward to seeing each other and finding out if we can actually pull this off with a one time four-set performance that's open to the public.
Folks were treated to a fabulous performance by legendary composer Bernie Bierman, who celebrated his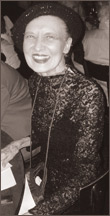 101st birthday at The Knickebocker Bar & Grill in New York city. There was a host of performers who came out to pay tribute. Celeste Holm and Julie Wilson were in attendance for the great event which was hosted by Don Dellair. Click here for pics of the big event.
Eighty five year-old bodybuilder Dan Lurie has a nice collection of photos with old time celebrities... 1950s celebrity Engrav-o-tints are a lot of fun to look at ... Guitar Wizard, Les Paul, died from pneumonia on August 13th. He was 94.
Johnny Depp may be playing Dean Martin, or he may be playing Frank Sinatra, in some upcoming movie directed by somebody. Playing an icon like Sinatra would be a tough task for anybody, as his personality and mannerisms are pretty familiar to most. Depp is likely

talented enough to pull it off. Playing Martin might be easier as Dino had a more even keel personality (the Ant in "The Ant and The Aardvark" did a pretty swell job of it). Anyway, isn't Harry Connick the obvious choice to play Dean Martin?
Big band singer Chris Connor, who sang with Stan Kenton's orchestra and had a solo career in the 1950's died on August 29th. She was 81 ...Henry Allingham, the last surviving WWI veteran born in 1896, died at the age of 113. He outlasted the Kaiser by 69 years ... Famed anchorman Walter Cronkite, 92, died on July 17th.
Saw this sign in front of a child's bouncing ride at the Hungarian Festival in New Brunswick, NJ. ... Happy Birthday to The 1920's Radio Network who will be five years old on May 8th ... Comic Actor Dom Deluise passed away at the age of 75 on May 4th. He was a regular on "The Dean Martin Summer Show" and a staple in the variety shows of the 60's and 70's.
Here in the States, if reality TV has taught us anything, it's that the Brits are tough judges ... but you know, they're usually right! Right? Here's what the good folks across the pond at Radiocafe have to say about BigBands & BigNames - "Our favourite big band jazz site, clearly run by individuals who know their music. Lots of reviews, pictures and other features for enthusiasts - take a look for yourself"
Remember Don Grady from My Three Sons? He's an active musician and has been since his days as a drummer for a 60's band called Yellow Balloon ... Here's some photos of Dino and his Stutz Blackhawk ... I guess by now everybody hs seen this video of Ron Howard with Andy Griffith and the Fonz? .... Interesting site about the proud history of Ballantine Ale
On May 23, the Glenn Miller Orchestra will return to the famous Meadowbrook Dance Hall in Cedar Grove NJ. Check the message board for the specifics ...
Dean Martin received a Lifetime Achievement award at this year's Grammys. Jerry Lewis received a humanitarian award at the Academy Awards this February.
The Harold Arlen/Yip Harburg composition "Somewhere Over The Rainbow" is a rare example of where the melody and lyrics are equally successful. Here's a classic rendition by Hawaiin icon Israel Kamakawiwo'ole coupled with a very clever and touching video on Israel's life.
Pennsylvania performing legend Lisa Kirk got a big write up in The Pittsburgh Tribune this December.... John Lennon's Quarrymen are back ... New York's historic Rainbow Room is closing
News from 2009 ::: News from 2008
News from 2007 ::: News from 2006
News from 2005 ::: News from 2004
News from 2003 ::: News from 2002