This Thanksgiving video from Saturday Night Live (2005) is hysterical. I'm not sure their target audience has any idea who Vincent Price is, but the impersonations here are too funny. Sorry, you'll have to sit through a commercial.

Happy Birthday wishes to Cabaret icons Julie Wilson and Don Dellair who both celebrated on October 21st!
In Memoriam:
Singer Eartha Kitt, 81, December 25 .... Peruvian songbird Yma Sumac, 86. on November 1st .... The Four Tops' lead singer, Levi Stubbs, 72, died on October 17th after a long battle with cancer. I remember seeing the Tops when they (and three other acts) opened for Jan & Dean. This was about 1979, and the resurrected surf band was a hot commodity because of the 1978 TV movie "Deadman's Curve" starring Richard Hatch. I remember feeling bad for the Tops because they had so many hits and were demoted to an opening act. But on that night, I was there to see Jan & Dean too ... Ernie Kovac's widow, Tony award-winning actress, singer and Muriel Cigar Girl, Edie Adams on October 15th at the age of 81 ... Composer, producer and trumpeter Neal Hefti, 85, on October 14th. He worked with Sinatra, Harry James, Doris Day, Mel Tormé and Tony Bennett among many others Nick Reynolds, 75, original member of the Kingston Trio ... Tommy Dorsey's girl singer, Connie Haines on September 27th at the age of 87. Ms. Haines was wracked up in an auto accident several years ago but survived that. Prior to her accident, she performed regularly in Florida (if I remember correctly) ... Here's some great photos of actor, icon, Paul Newman, 83, on September 26th ... Ralph Young, 90, of Sandler & Young on August 23rd.
Farewell to New Jersey's AM station WBUD and with it, 35 years of broadcasting Sinatra Sunday with host Jack Pinto. He closed with, "Life's Been Good To Me" and "My Way." I hope somebody somebody picks up his show (and soon ... he's 79).
Happy 100th birthday (August 26th) to legendary composer Bernie Bierman! Bernie's big celebration was held at the Top of the Tower in the Beekman Tower Hotel on East 49th Street and the East River. In attendance were singers Michelle Pirret, KT Sullivan with husband Steve Downey, Frank Basile (of the Opera world). Also performing was Broadway producer/singer Jamie DeRoy and the Crown Prince of Cabaret Steve Ross and conductor-arranger Alex Rybeck, balladeer Dominick Guastefarro, vocalist MarieAnn Meringolo, singer Sachal Vasandani (reminiscent of a young Jack Jones), pianist Marty Silver and

famed jazz musician Jimmy Heath. Also TV host Joe Franklin, Broadway producer Michael Alden, Lynn Lane (wife of the late B'way and Hollywood composer Burton Lane), songwriter Ervin Drake ("It Was A Very Good Year for Sinatra, and Good Morning Heartache"for Billie Holiday, and "I Believe" for Frankie Laine), Broadway Composer Gary William Friedman (The Me Nobody Knows"), the glamorous jazz vocalist Stevie Holland, conductor, singer, pianist James Followell, Emmy and Grammy winning writer/producer Alyce Finell, Donald Smith (producer of the Cabaret Conventions and senior officer of the Mabel Mercer Foundation), Celeste Holm, musical comedy singer Klea Blackhurst, singer Rochelle Mancini, husband and wife fashion designers Willie and Ricky Smithline, Lynda Burns, Cabaret and CD singer Cynthia Crane and the Exalted Singing High Priestess of Broadway and Motion Pictures Miss Julie Wilson. Photos were taken by "photographer to the stars" Mark Rupp. The event was hosted by Don Dellair.
If you didn't read her book, here's an excerpt from Deana Martin's "Memories Are Made of This" ... On that note, some of Dean Martin's Goldiggers are still actively performing.
My local FM radio station, WDVR, broadcasts "Jukebox Saturday Night," the music of the big bands, every Saturday evening from 8pm till 11pm (EST) on the internet ... Also on the web, WBCB of Pennsylvania transmits "Sunshine Music Memories" with Lou Powers every weekday morning (EST) ... Another internet station I've recently discovered is The 1920's Radio Network which plays continually ... And of course, there's always the great Standards on Music of Your Life which boasts celebrity DJs.
In Memorium:
Big band and pop singer Jo Stafford who sang with Tommy Dorsey's Pied Pipers on July 16th at the age of 90 ... Hollywood legend Cyd Charisse, 86, from a heart attack on June 17th. She's survived by her husband Tony Martin, 96, whom she married in 1948. Here's a video of Tony Martin singing only two years ago
The results are in. Nixon beat Humphrey and Wallace for the 1968 Presidential Election. There are loads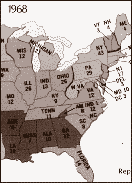 of interesting political images believed to be in the public domain at Images of American Political History ... If you're bored, you can build these remarkable Iti-Biti litle airplanes from downloadable templates.
Ernie Terrell is best remembered as being the heavyweight contender who was clobbered by Muhammad Ali in 1967 because he kept calling Ali "Cassius Clay". His sister, Jean Terrell had a tough assignment too (metaphorically speaking). She took over as the lead singer for The Supremes when Diana Ross departed in 1970. It took Ross a while to get a hit, but the new Supremes scored with two memorable numbers, Up The Ladder To The Roof and Stoned Love. These songs are seldom played on the radio today but I remember them well, and Jean Terrell is still a really good singer.
The great country crooner Eddy Arnold, 89, died in Nashville on May 8th after a lengthy illness. His biggest hit, "Make the World Go Away," reached the pop Top 10 in 1965. His wife of 66 years, Sally, died on March 11 at the age of 87.
Kristin Baggelaar who authored "The Copacabana" has beefed up her Copacabana site with more photos and stories ... This August, legendary New York composer Bernie Bierman will be 100 years old ... Here's some interesting photos of The Latin Quarter in New York ... This site details how to turn your old TV console into a retro-looking bar.
Congratulations to Denny Farrell who hosts The Original Big Band Showcase, on the birth of his first grandson, Michael Patrick on St. Patrick's Day... Courting Mae West: Based on true events during the Prohibition Era when Mae West was arrested and jailed will be at the Algonquin Theatre in NYC this coming July.
This is a sad one. Mike Smith, the lead singer of the Dave Clark Five died from pneumonia, just ten days before the DC5 were scheduled to be inducted into the Rock & Roll Hall of Fame. Mike had the terrible misfortune of getting his trousers caught while trying to climb over his own fence. He landed square on his head and had been paralyzed ever since. Several years earlier, his only son died in a diving accident. Mike Smith had plenty to be bitter about, but he was always upbeat in his correspondence with his fans around the world. Although he wrote many of the Dave Clark Five's hits, Mike seemed to depend upon contributions from fans and peers (like Peter Noone of the Herman's Hermits) to help defer the cost of needed medical equipment.
The "Swamp Ghost" is (was) a great tourist attraction for the adventurous in the swamps of Northern New Guinea. The American B-17 bomber was forced to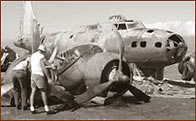 land over 60 years ago in treacherous swampland, partially submerged. The entire crew somehow managed to make their way out in several days, often needing to construct platforms from trees and twigs to keep their bodies above water to rest. The Flying Fortress was recently dismantled by an American entrepreneur and lifted by helicopter to the docks where it is was the process of being packed-up for shipment back to the U.S. for restoration, until New Guinea government officials stopped it. Now the plane is in limbo, packed in crates in a warehouse awaiting litigation. The B-17 is especially unique because the gunner on the bottom turret flayed down which is unusual for any gunner.
Look what they keep doing to the Munsters' house ... This fellow has some great recent photographs with many stars from the past. I found him because I Googled Marge Champion. She was married to Gower Champion. They were a staple in N.Y.C.'s nightclub circuit in the 50's and a favorite of Mr. Dana's, who wrote the reviews on this site.
Chuck Conner's fans, there was a large "loop" in the rifle's trigger, that's how he could fire so fast. Here's how to get your own Rifleman's rifle with the same reflex.
It looks like the Hotel Pennsylvania (Pennsylvania 65 oh-oh-ho) which Bandleader Glenn Miller made famous in 1940 may not be destroyed after all. A resolution to protect it from demolition is on its way to the Landmarks Preservation Commission. This review features Horace Heidt's 1954 performance there.
What's all the hullabaloo about tabloid sensation Amy Winehouse? She's described by YouTube fans as being "tragic," "brilliant" and "Billie Holidayish." This video shows Amy Winehouse really nailing the vocals on that old standard "Teach Me Tonight."